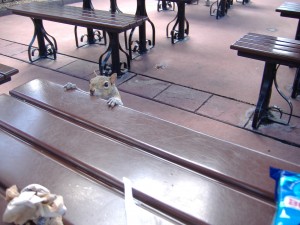 "Stop whining, what do you want to do next?"
I could feel the frustration in this mother's voice as the words echoed from her lips amidst the crowd in Disney's Animal Kingdom® Theme Park.
The child barely got their mouth open to answer before their mother chimed in with, "you know what I don't care what you want to do…"
I am sure you can guess that this frustrated family was not smiling.
Walt Disney World® Resort, Disneyland® Resort and Disney Cruise Line® are amazing vacation destinations, second to none in quality and service. There truly is something for everyone.  But as with any destination so large and so popular it is easy to allow frustration to set in and begin to 'steal' away priceless memories with your family and/or friends.
Between the crowds, the fatigue from trying to 'do it all', the weather, personality clashes and unpredictable moments; it is easy to take away from the excitement of being at 'the Happiest Place on Earth'.
What can we say, we are about full disclosure.
The best advice we can offer, "Don't sweat the small stuff…and it is all small stuff." – R. Carlson
While I don't know about you and your family, it seems like the things that frustrate my family the most on our trips become the things we laugh about the most when we get home. From squirrels stealing our food to bird droppings in our hair and the occasional 'sour apple' person we've encountered, we've had plenty of situations to steal our fun.
We can become the frowning family in Disney's Animal Kingdom® Theme Park because we let our situations get the best of us, or we can choose to be the family with mouse ears perched atop our heads and turkey legs in our hands…laughing our way through the good, and the bad.
A trip to Walt Disney World® Resort, Disneyland® Resort or Disney Cruise Line® does not happen every day, and learning not to sweat the small stuff will help you make the most of your trip and the time you have there with family and friends!
One way to help relieve a lot of vacation stress is to allow your Magic Maker® to help you plan and prepare for your trip, from itineraries to dinner reservations…all at no cost to you! Be prepared, take time to rest, and remember not to sweat the small stuff, and you are certain to make the most of your time at the Happiest Place on Earth!