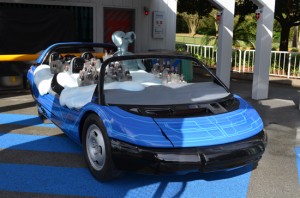 The countdown is on for the reopening of Test Track® Presented by Chevrolet®. The re-engineered attraction will open on December 6th after being closed almost 8-months for refurbishment.
Disney Imagineers have promised a whole new experience as guests will create their own virtual concept vehicle in the Design Studio. Then, guests climb into a SimCar to put their design through its paces on the Test Track circuit while reaching speeds of up to 65 miles per hour. After your test drive, see stats on how well your virtual concept vehicle performed and explore the Chevrolet showroom full of cars designed by the experts!
This picture shows what the new 6-person SimCars will look like when Test Track® Presented by Chevrolet® opens in December.