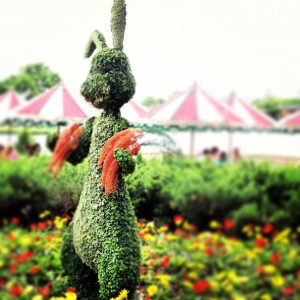 When the 20th Epcot® International Flower & Garden Festival kicks off on Mar. 6, 2013, it will debut a new concept for the festival – Garden Marketplaces. These Garden Marketplaces will mix garden- and backyard-living-inspired food and beverage items into the annual Epcot® festival of blossoms.

Let's get down to the details! Walt Disney World® Resort Chefs and Cast Members have worked hard to ensure that each Marketplace offers a whirlwind culinary adventure without repeating any offerings from the Epcot® International Food & Wine Festival. While this is not a complete list of food and beverage offerings, here's just a taste of the of gourmet bites and beverages that will be available:
The Smokehouse – Barbeque and Brews (The American Adventure): Finger-lickin' barbecue at its finest – Pulled pig slider or smoked beef brisket. Also enjoy red wine and a selection of craft beer.
Lotus House (China Pavilion): Far Eastern flair will be showcased with delicacies like Beijing-style candied strawberries, spring pancakes with grilled chicken and green apple, bubble teas, fruit beverage cocktail and Chinese beer.
L'Orangerie (France Pavilion): Pair a rustic ratatouille tart or a country pâté and cherry compote with a sip from a selection of French wines.
Bauernmarkt – Farmer's Market (Germany Pavilion): Savory spring pea and mushroom bread pudding and a German meatloaf sandwich with sweet mustard and fried shallots are among the menu items in Germany. Beverage options include Hugo, an elderflower sparkling wine cocktail, and a selection of German beers.
Primavera Kitchen (Italy Pavilion): Try some green asparagus and lobster with garden cocktail sauce or lasagna primavera. No Italian cuisine would be complete without a  fruity cocktail or Italian wine!
Hanami (Japan Pavilion): Now this is something you won't want to miss! Frushi, or fruit sushi, will be made with fresh fruit and coconut rice.
Jardin de Fiestas (Mexico Pavilion): Crab tostadas, pork tacos, the strawberry-infused Rosita margarita and tequila flights will keep the culinary party going in Mexico!
Taste of Marrakesh (Morocco Pavilion): Enjoy Morocco's lamb kebabs and couscous, harissa chicken drumettes with chermoula, desert rose cocktail and more.
The Cottage – Savories, Trifles and Tea (United Kingdom Pavilion): The UK will feature a selection of tea and delectable dainties including a salmon tartare-topped cheddar biscuit and a Caprese and a trio of trifles.
And outside of the World Showcase Pavilions, three additional Marketplace options will be available.
Fruits by the Glass (World Showcase Plaza): How about a toast to Spring? Options include mango and blueberry wines, nonalcoholic wild berry slush and gluten-free raspberry ale.
Pineapple Promenade (World Showcase Promenade): This one is sure to be a crowd favorite! Try everyone's favorite Dole Whip, but with a twist of spiced rum! Other options include pineapple upside down cake, fruit cups and more.
Florida Fresh (World Showcase Promenade): Enjoy a taste of the Sunshine State with watermelon and feta salad, shrimp and grits, and tomato and carrot wines!
The 20th Epcot® International Flower & Garden Festival runs Mar. 6, 2013 – May 19, 2013 and is included with regular admission to Epcot®. It's not too late to experience this year's festival for yourself. Contact your Magic Maker® today!