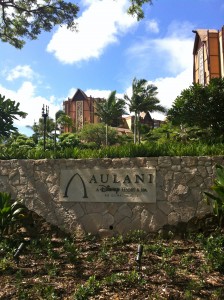 By Magic Maker Heather Straight
It's hard to say who was more excited about visiting Aulani, a Disney Resort & Spa on the island of Oahu in Hawaii – me and my husband, or our two young boys. Certainly my husband and I had always put a visit to Hawaii high on our travel "Bucket List," and our boys, ages eight and five, had been hooked from the first look they had of pictures of the lazy river, the water slides, the pools and the many water play areas. From the moment we stepped off the plane in Honolulu, and were greeted with smiles and fragrant lei in the Aulani, a Disney Resort & Spa lobby, we knew we were in for the vacation of a lifetime.
Everything about Aulani, a Disney Resort & Spa tells a story – the story of Hawaii, its people, its culture, its landscapes – and it's all done with an attention to detail that Disney does so well. From the exquisite murals lining the beautiful lobby to the colorful photos taken by local Hawaiian children that form a work of art behind the front desk, from the sweeping views of the Pacific ocean on one side to the volcanic mountains on the other, everywhere you turn you immersed in the beauty and history of the Hawaiian islands. Combined with the exceptional service that they are known for, Aulani, a Disney Resort & Spa is a truly remarkable family vacation destination.
The boys divided their time between Aunty's Beach House and the Waikolohe Valley. Aunty's Beach House is a major family perk of Aulani, a Disney Resort & Spa, a complimentary kids' club for children ages three and up, staffed with excellent, well-trained youth counselors that keep children engaged and safe. Aunty's Beach House features areas for dress-up and imaginative play, arts and crafts, computers, a TV room, an outdoor play area, a magical fireplace for storytelling, and much more. Kids can make volcanoes erupt or concoct "Space Goo" with Stitch, and several premium programs are available for an additional fee. Our boys did Aunty's Make Believe Magic, a half-day program that included lunch and a magical treasure hunt through Aunty's Beach House.
The Waikolohe Valley is essentially a 7-acre water park, with pools, slides and a lazy river surrounding the centerpiece, the Pu'u Kilo Volcano. Our whole family spent hours floating on the lazy river, swimming in the pools, rocketing down the water slides, basking in the sun and searching for hidden animals and sea life carved into the sides of Pu'u Kilo Volcano. It was nearly impossible to draw our youngest away from the Menehune Bridge, an immense water play area inhabited by the mischievous "menehune" – the Hawaiian equivalent of a leprechaun. Mickey Mouse, Minnie Mouse and Goofy could be found hosting poolside parties, and Chip and Dale made regular appearances at Rainbow Reef, the man-made snorkeling lagoon full of colorful fish where the whole family can try their hand at snorkeling.
One afternoon while the boys were playing at Aunty's Beach House, my husband and I visited the Lani Wai Spa for Lomi Lomi massages (a Hawaiian technique using hot stones and a special massage stick carved from the lomi lomi tree) and relaxation in the outdoor hydrotherapy garden. I consider myself something of a spa connoisseur, and try to fit in a spa visit on every vacation. Lani Wai Spa was easily the most amazing spa experience I've ever had, from pools and showers in the hydrotherapy garden to the excellent facilities in the locker and relaxation rooms. I highly recommend the Lomi Lomi massage, a very relaxing experience.
The Pau Hana Room, the community room, offers complimentary daily Hawaiian craft classes (we made floral lei, fern bracelets, kukui nut bracelets and sea turtle pendants) as well as a place for the family to play Wii or Playstation games, catch a movie, send home a video post card or learn the basics of hula. It's also the place to pick up a hand-held device (similar to an iPhone) and set off on the Menehune Adventure Trail, an interactive adventure through the grounds of Aulani, a Disney Resort & Spa.
While we did set off for adventures around Oahu, such as Pearl Harbor and the North Shore, we could have easily stayed our entire week at Aulani, a Disney Resort & Spa and never been bored. Playing on the beach with sand toys and boogie boards (complimentary for Aulani, a Disney Resort & Spa guests), stand-up paddleboard and outrigger rentals, and a host of excursions offered by Adventures by Disney have something for all ages. Nightly story telling, star gazing, and an amazing show called the Starlit Hui carry the entertainment well into the evening hours.
I could go on and on for pages and pages about Aulani, a Disney Resort & Spa, the service, the food, the spacious and comfortable rooms, the friendly and helpful Cast Members, the adventures and more, and still not be finished describing what was, so far, the most magical family vacation we've ever taken.
The highest compliment I can pay is this – scarcely a day goes by that my boys (and often my husband!) don't ask when we'll be going back to Aulani, a Disney Resort & Spa.