To all who come to this happy place: Welcome! Disneyland® is your land. Here age relives fond memories of the past, and here youth may savor the challenge and promise of the future. Disneyland® is dedicated to the ideals, the dreams and the hard facts that have created America … with the hope that it will be a source of joy and inspiration to all the world. – Walt Disney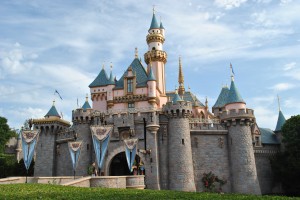 When Walt Disney opened the gates to Disneyland® Park 57 years ago today, no one imagined it would be what it is today. Even though Walt encountered many obstacles and was told numerous times that he was making a grave mistake, he continued to follow his dream. Today, more than 500 million guests have visited Disneyland® Park, becoming a source for memories that will last a lifetime!
In celebration of Disneyland® Park's 57th Birthday, enjoy these Fun Facts:
Disneyland® Park, "The Happiest Place on Earth," occupies 85 acres of land about 27 miles southeast of Los Angeles.
Disneyland® Park features 8 themed lands – Main Street, U.S.A®, Tomorrowland®, Fantasyland®, Frontierland®, Critter Country, Adventureland®, New Orleans Square, and Mickey's Toontown.
When Disneyland® Park opened on July 17, 1955, it had 18 major attractions. Now, guests will find more than 60 different adventures and attractions!
It takes approximately 5,000 gallons of paint each year to keep Disneyland® Park looking as beautiful today as it did 57 years ago.
Each year, more than 1 million annuals are planted at Disneyland® Park.
Approximately 30 tons of garbage is collected each day in the Park.
No visit to Disneyland® Park is complete without food! Each year, an estimated 3 million hamburgers, 2 million hot dogs, 1.6 million servings of popcorn, and 2.8 million churros are served.
The Costuming Department is responsible for approximately 800,000 pieces! Annually, about 300,000 buttons are replaced on costumes!
Each night, custodial cast members wash and steam clean the streets of Disneyland® Park.
The Disneyland® Band has marched more than 3,500 miles in over 90,000 performances since opening day in 1955. The repertoire of the band includes more than 400 musical numbers.
What is your favorite part of Disneyland® Park? Tell us in the comment section below!