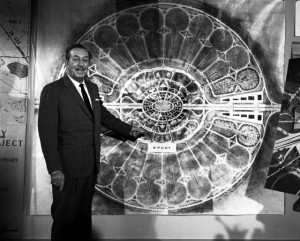 For many years, Walt Disney envisioned an Utopian city of the future. His ideas for his Experimental Prototype Community of Tomorrow – or EPCOT for short – were part of the "Florida Project" plans.
Opened on October 1, 1982, EPCOT Center was a park inspired by Walt's vision. The park served as a showcase for innovation, cutting edge technology, and international cultural achievements. EPCOT Center was a discovery park!
Plans for EPCOT Center were announced just 4 years before opening. The park would open with two "lands" – Future World and World Showcase. Future World would showcase the land, the seas, communication, imagination, energy, and technology. World Showcase would feature 9 countries and their respective cultural heritage, arts and entertainment. From ground breaking to opening day, the 305 acres park took exactly 3 years to construct.
EPCOT Center has seen plenty of changes over its 30 year history, even to the parks name. In 1994, EPCOT Center was renamed  to Epcot®. World Showcase has added two additional pavilions since opening day (Morocco and Norway) and many of Future World's attractions have changed.
On Oct. 1, 1982, E. Cardon Walker, Chairman and Chief Executive Officer of Walt Disney Productions, presented EPCOT Center to the world during an opening ceremony. 30 years later, we think Epcot® is still living up to its name and holds true to the words inscribed on its dedication plaque. The plaque reads:
To all who come to this place of joy, hope and friendship, welcome.

Epcot Center is inspired by Walt Disney's creative genius.  Here, human achievements are celebrated through imagination, the wonders of enterprise, and concepts of a future that promises new and exciting benefits for all.

May Epcot Center entertain, inform and inspire.  And, above all, may it instill a new sense of belief and pride in man's ability to shape a world that offers hope to people everywhere