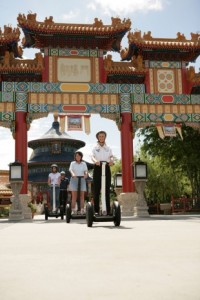 Effective Sep. 17, 2012, a new tour will replace Epcot's® current "Around the World Segway Tour"
The "Keep Moving Forward: See the World, Share the Dream Segway Tour" will be a three hour journey that explores the vision that Walt Disney had for a better tomorrow and what resulted from his vision: "The Florida Project" and Epcot®!
Compared to its predecessor, the "Keep Moving Forward" tour will offer a more in-depth look at all of the World Showcase Pavilions (instead of select ones), enhanced audio devices on your Segways to hear your guides, a new commemorative pin exclusive to this tour, and a breakfast at Sunshine Seasons.
The tour costs $99 plus tax for guests 16 and older with some discounts available for select guests. Guests who had previously booked the "Around the World Segway Tour" for dates after Sep. 17, 2012, will automatically be moved to the new tour for the same time slot.
The "Keep Moving Forward" tour is just one of the many tours available to Walt Disney World® Resort and Disneyland® Resort guests. If you are interested in including one of these amazing tours to your upcoming vacation, please contact your Magic Maker® for additional information!
A parent or guardian must sign a waiver for participants age 16-17.