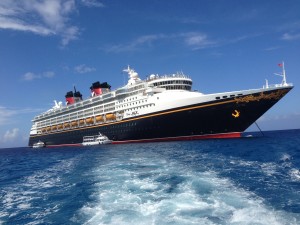 New itineraries and new ports are on the horizon for Disney Cruise Line® in 2014! Just announced this morning, they will be expanding their collection of European cruises and sailing from two new homeports – Venice, Italy and San Juan, Puerto Rico!
Here's a quick preview of their 2014 schedule:
Mediterranean from Venice and Barcelona
In anticipation of an amazing return in 2013, the Disney Magic® will set her sights on the Mediterranean from May through Aug. 2014. Offering a rich array of European itineraries with a variety of cruise lengths and ports of call, these Disney Cruise Line® sailings are a great way to see the best of Europe. You will experience richly diverse cities and cultures, iconic locations, sun-drenched islands and the brilliant blue waters of the Mediterranean Sea.
New for 2014, Disney Cruise Line® will use Venice, Italy as a homeport for select sailings. The best part of the cruises originating in Venice is that you will overnight in Venice, giving your the opportunity to experience a spectacular evening in the city! New destinations for the Disney Magic® in 2014 include popular locations in the Greek Isles and Sicily, including Katakolon, Rhodes, Heraklion (Crete), Santorini and Corfu, Greece and Catania, Sicily.
Southern Caribbean from San Juan
The Disney Magic® will homeport in San Juan for the first time in 2014, allowing it to offer an amazing 7-night Southern Caribbean itinerary. Ports of call for these sailings include Antigua, St. Lucia, Barbados, St. Kitts, and Grenada – a new port of call for Disney Cruise Line®. Known as the "Spice Isle," Grenada is a lush and lively destination filled with spice estates, tropical gardens, beautiful beaches, and thrilling water activities like diving, snorkeling, and fishing. These itinerary will be offered for only 4 sailings, Sept. 20 through Oct. 11, 2014.
Alaska from Vancouver
Always a popular itinerary, the Disney Wonder® returns to Alaska to sail a 7-night itinerary from Vancouver. New this year is one special 9-night cruise which adds a stop at Sitka, Alaska – also a first for Disney Cruise Line®. Couple the natural beauty and rich history of Alaska with the unparalleled, family-friendly experience found on a Disney Cruise Line® and your vacation will be one you never forget!
Bahamas and Caribbean
In 2014, Disney Cruise Line® will sail a variety of Bahamian, Western Caribbean, and Eastern Caribbean sailings from Port Canaveral and Miami, FL. Delight in stops at some of the most popular cruise destinations, including Nassau, Key West, Grand Cayman, Cozumel, and even Disney's own private island, Castaway Cay.
Bookings for these new itineraries open at 8 a.m. ET on Feb. 13 for Platinum or Gold Castaway Club Member and to the general public on Feb. 14, 2013.
Disney Cruise Line® caters to the unique vacation needs of families and can take you where ever your adventure awaits – from the wonders of Europe to the great outdoors in Alaska! Contact your Magic Maker® today to start planning!