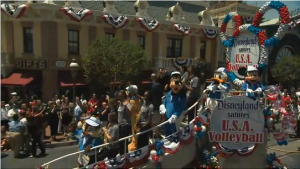 In the past couple weeks, both the Walt Disney World® Resort in Florida and the Disneyland® Resort in California have hosted events for USA Olympic athletes hoping to make their dreams come true at the 2012 Olympic Games in London.
A send-off party for Brittany Viola, a U.S. Olympic Diving Team member, was held inside Planet Hollywood® at the Downtown Disney® Area of the Walt Disney World® Resort. Viola will perform in the women's 10-meter platform this August. During Trials, she qualified with almost 60 more points than the second place qualifier!
This past Tuesday, the Anaheim-based men's and women's USA Volleyball teams were the stars of a special cavalcade on Main Street, U.S.A® at Disneyland® Park. With Mickey and his pals by their side, the teams walked to the beats of the Disneyland® Resort All-American College Band while being showered with red, white and blue confetti. The U.S. Women's and Men's National Volleyball Teams are ranked #1 and #5 in the world respectively.
These patriotic tributes were a great way for Disney Parks to recognize the dreams of all U.S. athletes who are on their way to represent our country in the Olympic Games.
Enjoy this video of the send-off cavalcade at Disneyland® Park