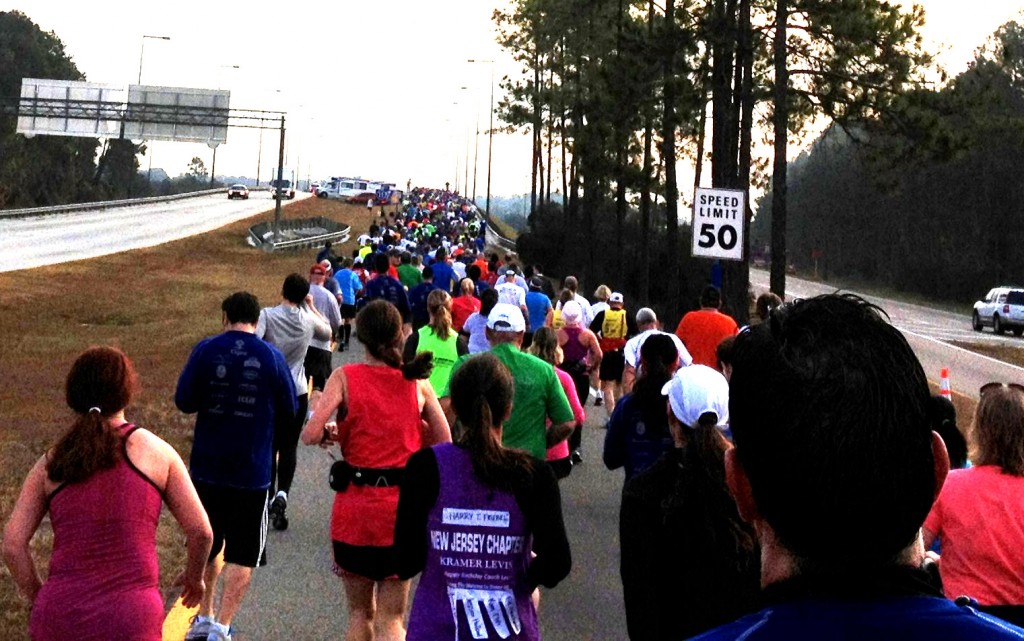 by Magic Maker® Joe DeFazio
Donald Duck counts it down…3…2…1 and then with a flash of light and burst of fireworks that cut through the cool dark early morning, you are off.  Not quite the rocket launch that happens some 60 miles east of where you are running, but nearly as impressive.  This is the start of your race at the Walt Disney World® Resort.
I recently returned from running the Walt Disney World® Half Marathon and met several experienced runners and several more like me who were running their first race (and a few of the borderline insane who were running the Goofy Challenge – a half marathon (13.1 miles) on Saturday and a full 26.2 mile marathon on Sunday).  The opinions were unanimous – whether you are running your fiftieth or your first race, running at Walt Disney World® Resort is a great experience.
From packet pickup and registration to race completion, my experience running at the Walt Disney World® Resort was made easy and was filled with friendly smiles, shouts of encouragement and helpful cast members, runners and volunteers.    The "you can do it" atmosphere of the entire weekend envelopes you, something that was very meaningful to this very nervous, first time runner.
On race day, or should I say, way way way too early on race morning, transportation from the resorts to the race starting area begins at 3:00 AM and you need to be on a bus no later that 4:00 am to be able to start the race.  It may be tempting when reading this to want to stay off site where you think you could sleep a little later and just drive in quick and be at the starting area by 4:30 when they begin to stage runners.  Resist the temptation!
The plan simply does not work – there are thousands upon thousands of runners all arriving at the same time and many of the normal roads used to get around the Walt Disney World® Resort are restricted, shut down or detoured for the race.  This leads to a looooong line of cars trying to get into the start area while the busses zip right in and drop off the slightly sleepy athletes.  For this reason above all others, I highly recommend you stay on site at the Walt Disney World® Resort if you are running.  You will get to the race on time (as long as you set that alarm clock) and when the race is over, the busses are lining up to take you back to your resort.
Disney does such a wonderful job making the race itself enjoyable and keeping you energized and motivated as you run.  Along your journey you will be greeted by the standard water stations filled with volunteers shouting encouragement but you will also encounter cheerleaders, marching bands, music playing and even Disney Characters!  You can stop and have your photo taken with Mickey (or others ) or strike a quick pose as you head up Main Street USA towards Cinderella Castle.  Along the way friends, family, volunteers and just plain great folks turn out and cheer you on.
Passing by the iconic Disney's Contemporary Hotel, running through an otherwise empty Magic Kingdom® Park just before the sun rises and pushing myself through Epcot's® Future World as the race is nearly over was an experience I soon won't forget. I almost forgot the full Gospel choir that greets you just before you hit the finish line – uplifting, inspiring, special and memorable.
The memorable course and amazing support are the two top reasons I am glad I chose to run my first race at the Walt Disney World® Resort.  I have not mentioned the pre and post race entertainment – dance party style that gets you moving, wakes you up and after you run gives you a great place to celebrate with friends and family.   The race shirts, color coded to the race you are running, are very cool (literally and figuratively)and the souvenirs including trading pins are of course, are not only readily available but well designed.
Last, but certainly not least, the medal is something special.  A Donald Duck design for the half marathon finishers, a Mickey for the full marathon, and the special Goofy Design for those, well, goofy folks that ran both races!  These are not some cheap sheet metal punch out, they are heavy, shiny and you won't want to take it off anytime soon.  In fact, you will see runners wearing them for the rest of their trip around the parks – I even spotted a couple on my flight home from Orlando!
A few tips I will offer to those of you thinking of running at the Walt Disney World® Resort.  For reasons mentioned before, Stay onsite – it is my #1 tip – it will help make your run  stress free from the start.
If it is cold the morning of the start, you may consider having a throw away seat shirt or something similar to wear.  After you start running and are warmed up, you can discard it roadside where volunteers will pick it up and it will be donated or thrown out.  You will be arriving between two and three hours before you actually start running – make sure you are getting yourself hydrated properly and keeping loose with plenty of stretching.   Don't forget to use the restroom as close to your start as you can – while there are rest room stops on the course, they always have lines which will slow you down.
Before starting, you will be placed in a corral to wait for your start time (Disney starts the races in waves).  When your corral is moved into the starting position, if you want a good look at or photo of the starting platform with Mickey Mouse and Donald Duck, move to the left side.  Each starting wave has it's own countdown and burst of fireworks, have your camera ready if you want to capture the moment.
After you start, keep to your plan and pace.  You are competing against no one but yourself – go for your goals and don't worry if you are being passed – many will pass you and you will pass many others.  If you are getting tired, it's OK to walk, you will notice many other doing it.  Keep hydrated along the way – don't skip the water stations and take the opportunity to take in the scenery and grab a photo or two, Characters greets are great for this and to give you a quick breather if you need it.  Also, don't forget to smile for the cameras!  There are photographers located all along the route.  You will get a chance to purchase photos from your race experience taken by them, so make 'em look good.
Take a some time to enjoy the post race fun – music, food, shopping and make sure you stretch out after your race, rehydrate and keep moving during the day so you don't get too sore.  Don't forget to wear your race medal to the parks afterwards – it's a great conversation starter!
Lastly, have fun.  Whether it is your first race or your fifty-first race, the Walt Disney World® Resort has a way to make it special for you and each mile magical.   Enjoy it, but be careful – you may find yourself planning your next runDisney Vacation before you leave your first! (I know I did).
For a list of runDisney events and details on how to get registered, contact your Magic Maker®.