Top Ten Things for Teens (and you) to do at the Walt Disney World® Resort…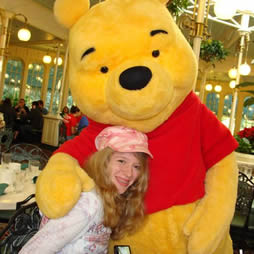 Wondering if your teen has outgrown Walt Disney World? Check out this must–do list for teens compiled by Magic Maker® Kim Bowers and approved by her very own teenage daughter.
Stay Out Late
Staying out at night holds a special magic for teens. As a Disney Resort Guest, you'll enjoy the Extra Magic Hours Benefit. While others are flocking to their cars after fireworks, you will just be getting started! The parks will be transformed by the night-lights and you'll enjoy shorter lines into the wee hours of morning!
Conquer Mountains
Thrills and chills await the brave at The Magic Kingdom® Park's Space Mountain, Disney's Blizzard Beach Water Park's Summit Plummet, and Disney's Animal Kingdom™ Park's Expedition Everest. And while you're at it, we dare you to ride The Twilight Zone Tower of Terror™ – a "haunted" elevator drop at Disney's Hollywood Studios™!
Get your Goofy on!
You're browsing a gift shop and your son hands you a Goofy Ear hat to wear. Reply, "I will if you will!" (and take pictures!) Where else can you be this silly and fit right in?
Swim under a volcano
The Walt Disney World® Resorts feature themed heated pools with features like fountains, slides, and waterfalls. Jump in or lounge by the pool with a snack while you soak up some Florida sun!
Shop at the Downtown Disney® Area.
Design your own candy-coated pretzel, make a custom T-shirt, and check out latest junior styles at Trend-D. Fan Boys will be at home in the huge Star Wars gift shop in Disney's Hollywood Studios™! Anime lovers will want to set aside at least an hour to peruse the Japanese Pavilion store at Epcot®!
Walk around the World at Epcot's World Showcase
Why not have appetizers in Mexico, dinner in Germany and dessert in France? My 14 year old daughter and I kicked it up a notch last summer by buying a piece of candy from each country – the perfect "we miss Mickey" snack for our return home!
Have lunch with a Disney Imagineer!
This is a little known opportunity your teen will never forget. You and a small group of guests will have a private lunch with a real Disney Imagineer at the Brown Derby Restaurant of Disney's Hollywood Studios™ and learn insider stories and tips for what it takes to make Disney magic!
Bond with the Fam.
Team up for a kid vs. parent laser showdown in Buzz Lightyear's Ranger Spin, practice making pirate faces in line for The Pirates of the Caribbean, or let your daughter escort her little sister to meet Minnie Mouse.
Play with Tomorrow's Video Game Technology
Only at DisneyQuest® Indoor Interactive Theme Park, a 5-story cutting edge arcade – a gamer's paradise that only Disney could create.
Just Chill
Have some down time in the happiest place on Earth! Watch fireworks from the beach of Disney's Polynesian Resort, enjoy a spa treatment, have funnel cake on Disney's Boardwalk, or find a bench and just people watch at Cinderella's Castle.
Click here to plan your Walt Disney World Vacation with your teens!