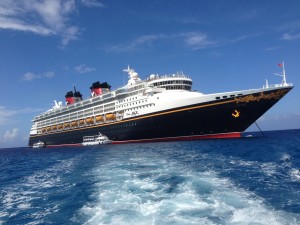 Last Friday, Disney Cruise Line® announced plans for a major refurbishment of their original ship, Disney Magic®. From stem to stern, the vessel will be updated with new adventures and features for its guests to enjoy. Click here for a summary of all the changes that will take place this fall.
The upper decks of the Disney Magic® will be redesigned to provide "splashtacular fun" for guests of all ages! The biggest addition (and the one that is getting the most 'buzz') is the AquaDunk, a three-story body slide that begins with a surprise launch. It all starts when the rider steps into a translucent tube to await a near-vertical launch when the floor beneath them gives way. Their wet and wild ride from deck 13 to deck 10 even takes them 20 feet over the side of the ship, allowing a glimpse at the ocean 112 feet below! It will be a totally new and unique experience from the AquaDuck which is available on the Disney Dream® and the Disney Fantasy®. Safety precautions will require guests to be over 48″ to experience the AquaDunk.
The former Mickey's Pool area will be transformed into the AquaLab, an interactive water playground similar to the one found on the Disney Fantasy®. Open to children ages 3 and up, the AquaLab features pop jets, geysers, and bubblers to ensure everyone gets their share of wetness! For sailors between 38″ and 64″ tall, a new Twist n' Spout slide will be installed.
Also being reimagined is Mickey's Splash Zone, which will become Nephews' Splash Zone. Available exclusively for guests up to age 3, it is an area themed after Donald Duck's nephews – Huey, Dewey, and Louie – and will provide a place for tots to cool off!
Additional poolside fun will be available on Deck Nine for families at Goofy's Pool and for adults at the Quiet Cove Pool.
Whether your definition of "fun in the sun" consists of a tranquil day lounging poolside in a deck chair or an exhilarating ride in the new AquaDunk, it will all be waiting for you on the Upper Decks of the newly reimagined Disney Magic® when it debuts Oct. 10, 2013!