Wildlife thrills are part of the upcoming Wild Africa Trek experience at Disney's Animal Kingdom® Theme Park and now you can start making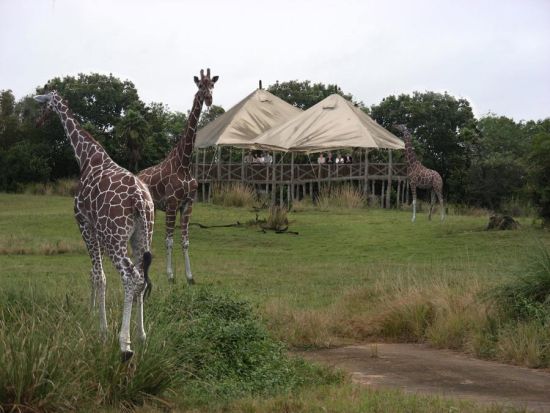 reservations.
Wild Africa Trek will be a three-hour, expert-led adventure offering up-close-and-personal experiences with wildlife species that make their home in Pangani Forest as well as other areas of the park's Harambe Wildlife Reserve. As part of the adventure, you'll clip onto a lifeline and step to the edge of a cliff to get amazingly close to the hippos and crocs. Here are a few highlights for curious explorers:
Trekking with experienced guides through areas of Harambe Wildlife Reserve that aren't explored during regular Disney's Animal Kingdom experiences.
Navigating through fern and vine forests on a bushwalk.
Clipping into a harness attached to a safety line, crossing a rope bridge over the Safi River and cliff-hanging at the edge of gullies that are home to hippos and crocodiles.
Experiencing the thrill of "over-landing" in customized open-air vehicles following the edge of a wide-open savanna.
Unwinding from an unforgettable adventure at a private safari camp for wildlife viewing. At this station elevated above the savanna, guests will savor sample tastes of Africa.
Harambe Wildlife Reserve will be offered several times daily at Disney's Animal Kingdom. Groups will be kept small, consisting of no more than 12 trekkers per safari.
Contact your Magic Maker® for more details on making a reservation. Pricing for this unique adventure will vary seasonally. Guests who reserve a booking from Jan. 16-Feb. 26, 2011, may take advantage of an introductory offer starting at $129. Park admission is required for participants.
*Tours are subject to availability and may be canceled at any time without notice.  Price is subject to change without notice. Guests must be at least 9 years to participate.