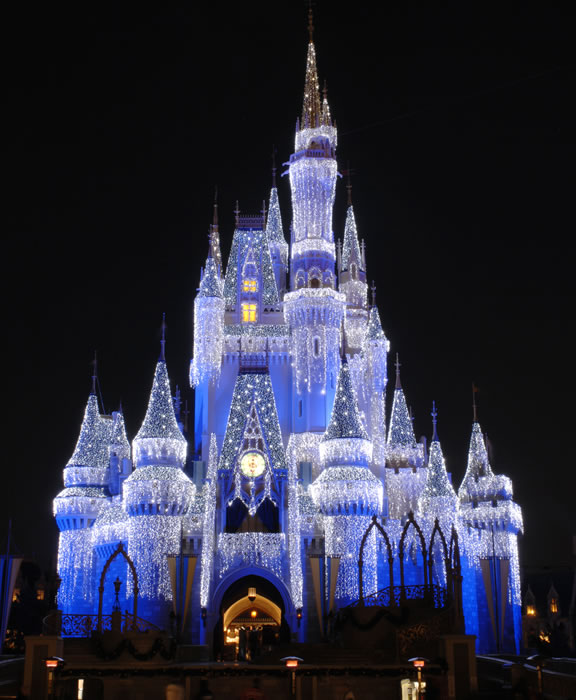 The holidays at the Walt Disney World® Resort are celebrated in true Disney fashion, and a Disney vacation for Christmas is a perfect gift for that special someone who wants to experience all the festivities. This magical time of year is enjoyable by itself, but throw in some Disney magic, and you've got "that most wonderful time of year." Here is a quick sampling of events during the holiday season at the Walt Disney World® Resort:
Magic Kingdom® Park – Mickey's Very Merry Christmas Party
This special after hours event is a magical time when Disney closes the park to a select number of guests. While it is a "hard-ticket" event, meaning there is an additional cost, it is well worth the price of admission in order to be in the Magic Kingdom® Park for several hours, with low crowds, and with many special activities and events. A special parade and fireworks presentation can be viewed, hot chocolate & cookies are served complimentary throughout the event, and don't forget, most of the rides are open. This is also a great time to catch some special stage shows and the breathtaking Cinderella Castle Dreamlights, snow on Main Street, U.S.A., as well as riding your favorite ride with a greatly reduced wait time. This event is only run on select nights, so check with your Magic Maker® for details.
Epcot® – Holidays Around the World and Candlelight Processional
This theme park celebrates the season by having its many countries in the World Showcase exhibit their many unique holiday festivities, stories and wonderful food options. Also, in the America Gardens Theatre, you have the option of listening to guest narrators, a mass choir, and a full orchestra as they present the Candlelight Processional. This is a special retelling of the Christmas story, and is a very popular event. If you wait in the "stand-by" line, you may have to wait for up to 2-3 hours for a seat on busier nights. Another option to look into is the Candlelight Dining Package. For a fixed price (based on the restaurant you choose), you are able to enjoy a wonderful meal, and you'll get "priority seating" at the show. This cuts your wait time down quite a bit, but you'll still want to get in the "Dinner Package" line at least 30-45 minutes before the show.  Finish off your night with a special holiday rendition of IllumiNations: Reflections of Earth.
Disney's Hollywood Studios™ – Osborne Family Spectacle of Dancing Lights
Immerse yourself in the joy of the season as millions of blinking, twinkling lights "dance" to a high-energy holiday symphony at Disney's Hollywood Studios™. See twirling carousels, sparking snowflakes, heavenly angels, majestic trees, twinkling bells, colorful wreaths and Santa with his reindeer in the most over-the-top light display anywhere! This event takes stage near the back of the park on the "Streets of America." It is a very popular event, and can be crowded at times, however, everyone always has a good view. The "dancing" part of the show happens every few minutes so make sure you stay long enough to see the show. Also, I recommend not trying to cram Fantasmic! and the Osborne Family Spectacle of Dancing Lights into one evening. They are both so great that you should allow multiple nights to see them.
Disney's Animal Kingdom® Theme Park – Mickey's Jingle Jungle Parade
"Mickey's Jingle Jungle Parade" blends the spirit of Disney's Animal Kingdom® Theme Park with the spirit of the season into a holiday offering full of jump, joy and jive! It's a jinglin' good time with Mickey, Minnie, Donald, Goofy, Chip 'n Dale and the gang on parade in their holiday yuletide best. This is much like the regular parade, however, the fun changes to it for the holiday season are worth viewing.
Snow in Florida, dancing holiday lights, spectacular fireworks, your favorite characters decked out for the holidays, an incredible retelling of the Christmas story and so much more… As you can see, the holidays at the Walt Disney World® Resort are truly a celebration of the season. So, how do you enjoy these wonderful events? With a Disney vacation for Christmas, of course! Start planning your Walt Disney World® trip for this holiday season or next, and you won't be disappointed. Disney is the perfect place to be during "the most wonderful time of the year."
Contact your Magic Maker® to start planning or click below to request a quote.