This Saturday, August 23, more than 50 Disney Villains will take over the operations of Disney's Hollywood Studios® for a Villains Unleashed special ticketed event!
We have some additional information for our guests that will be attending the party:
Although the party doesn't start until 8p, tickets become valid starting at 5p for admission. We suggest arriving early and enjoying a few of your favorite attractions before the party begins!
On your way into the park, be sure to pick up an event guide. This will give you a listing of all the locations and times for the special activities.
The party will kick off at Hades Hangout (Sorcerer Hat stage) at 8p.
Villain character greetings will be spread throughout the park. Take note of which Villain the queue is for and any posted appearance times. Not all of the Villains will offer meet and greet opportunities.
Oogie Boogie's Freaky Funhouse Show will have showings at 8:30p, 9:30p, 10:30p, and 11:30p
Fantasmic! will feature a special pre-show featuring the Night Crawlers. Don't be late!
Villainy in the Sky will start at 12:45am. As with all fireworks shows at Disney's Hollywood Studios®, preferred viewing is in front of the Sorcerer Hat and along Hollywood Blvd. Standing back so you are not too close to the Sorcerer Hat but near one of the video screens hanging on Hollywood Blvd usually provides the best experience.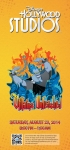 For additional information on entertainment offerings, click the image to the right to view the complete event guide.
Our guests staying onsite at a Walt Disney World® Resort hotel can utilize the Disney Transportation System to get to and from the party. For those driving, the side entrance (across from the Hess Station on E Buena Vista Dr.) will close at 3p. If you are driving to the park after that time, you will need to utilize the main entrance off US-192 and World Drive.
If you are going to be visiting the Walt Disney World® Resort this weekend and don't have tickets to the event, they are still available! Pricing is $67+tax for adults / $62+tax for children.