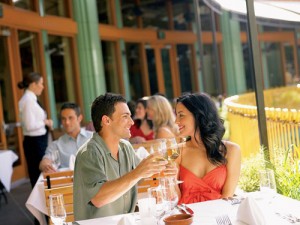 To some, when you think of adult vacation destinations, Walt Disney World® Resort is not near the top of your list. However the reality is that Walt Disney World® Resort has an extremely underrated side to it that beckons an untold number of couples and singles sans children to visit annually. From honeymoon and anniversary trips to vacations with friends and weekend getaways, Walt Disney World® Resort offers more for adult travel guests than one would imagine!
We are all accustomed to Walt Disney World® Resort's larger than life characters and icons, amazing family entertainment, immense 'kid appeal' and  rides for all ages. What we often forget is that Walt Disney World® Resort doesn't have to be 'just a trip for the kids'. From fine dining and wine tastings to spas, golf and adventure seeking experiences, there are countless activities to tickle the fancy of any adult!
The great news is, if you have children you don't have to leave them at home to enjoy the best in Walt Disney World® Resort's adult offerings! Select Walt Disney World® Resort hotels offer Children's Activity Centers for children ages 3 to 12, that will entertain your children with videogames, dinner, snacks, movies and more while you slip  away for a little grown-up time. If group childcare isn't the best for your children, there are also in-room babysitting options for you too! There is no need to feel guilty experiencing a little alone time…in fact your children may ask you to go away more often after experiencing the Children's Activity Centers.
For those who are looking to travel to Walt Disney World® Resort without children and are nervous about the younger set having the run of the theme parks, consider visiting Walt Disney World® Resort during the traditional school year. Avoiding planning your visit during the summer months and holidays to reduce the amount of crowds you run into on your trip. The late fall and early winter are both beautiful times to visit Walt Disney World® Resort!
While all of Walt Disney World® Resort's hotels provide great accommodations with top-notch service, there are a few resorts that really stand out to travelers looking for a more elegant travel experience. Disney's Port Orleans Resort – French Quarter is absolutely beautiful, transporting you to the romantic and historic French Quarter in New Orleans. Then there is Disney's Coronado Springs Resort, a Southwest-themed resort placing you in Spanish-colonial Mexico. Disney's Polynesian Resort and Disney's Grand Floridian Resort are also fantastic options for a romantic getaway. Singles and friends may really enjoy Disney's Yacht Club Resort and Disney's Beach Club Resort…featuring the Stormalong Bay 'water wonderland'.
When it comes to entertainment and relaxation, Walt Disney World® Resort has that too! As the home of two water parks, four golf courses and an entire area dedicated to entertainment, shopping and dining you are certain to find enough to keep you busy! From Cirque du Soliel to the Richard Petty Driving Experience, you can slow down and relax or pick up the speed with thrills designed for adults. Spas? Walt Disney World® Resort has those too! Hey, it is your vacation, it is okay to overindulge!
And then there is dining. Walt Disney World® Resort restaurants range from elegant to casual and are  certain to tickle your taste buds. Some of the wonderful options for adult dining experiences include California Grill, Restaurant Marrakesh, Bistro de Paris, Narcoossee's, Artist Point and the grand dining experience of Victoria & Alberts. The list of fantastic dining options could go on, so just consider this a starting point!
This is just a GLIMPSE into the adult side of Walt Disney World® Resort! As you can see, it isn't just for kids! Whether you are looking for a quiet evening on your next family vacation, or you are planning on traveling without kids to Walt Disney World® Resort…you are in for an incredible time!