The Walt Disney World® Resort is beautifully decorated during the holidays, but some favorite sights during the holiday season are the amazing edible holiday displays that truly look like something out of a fairy tale.  From the life-sized gingerbread houses, chocolate carrousel horses, to candy villages, they are truly a delight for all of your senses.
The lobby of Disney's Grand Floridian Resort & Spa is where you can find the resort's 16-foot-tall gingerbread house. This Victorian-style structure takes 400 hours to bake, and lists 1,050 pounds of honey and 600 pounds of powdered sugar among its ingredients. The house, which is topped off with Santas, poinsettias and powdered-sugar snow, also has a chimney that periodically puffs with the scent of cinnamon.  Don't forget to head to the back to pick up some samples.  Among the items for sale are gingerbread houses, gingerbread shingles slathered in chocolate, solid milk chocolate boxes, gingerbread cookies, and more!
At Disney's Beach Club Resort, a gingerbread carousel serves as the platform for horses made of chocolate and fondant, each beautifully decorated with candy and icing. The carousel also has 11 hidden Mickeys incorporated into its design.
Disney's Contemporary Resort's Grand Concourse (fourth floor) is where you can spot a 17-foot-tall gingerbread Christmas tree decorated with chocolate ornaments and candy canes. The tree's playful design was inspired by the work of Disney Legend Mary Blair, whose artistic style can be seen on the adjacent Grand Canyon Concourse mural.
The lobby of Disney's Boardwalk Inn showcases a gazebo made of gingerbread and chocolate — and one Donald Duck in quite a predicament!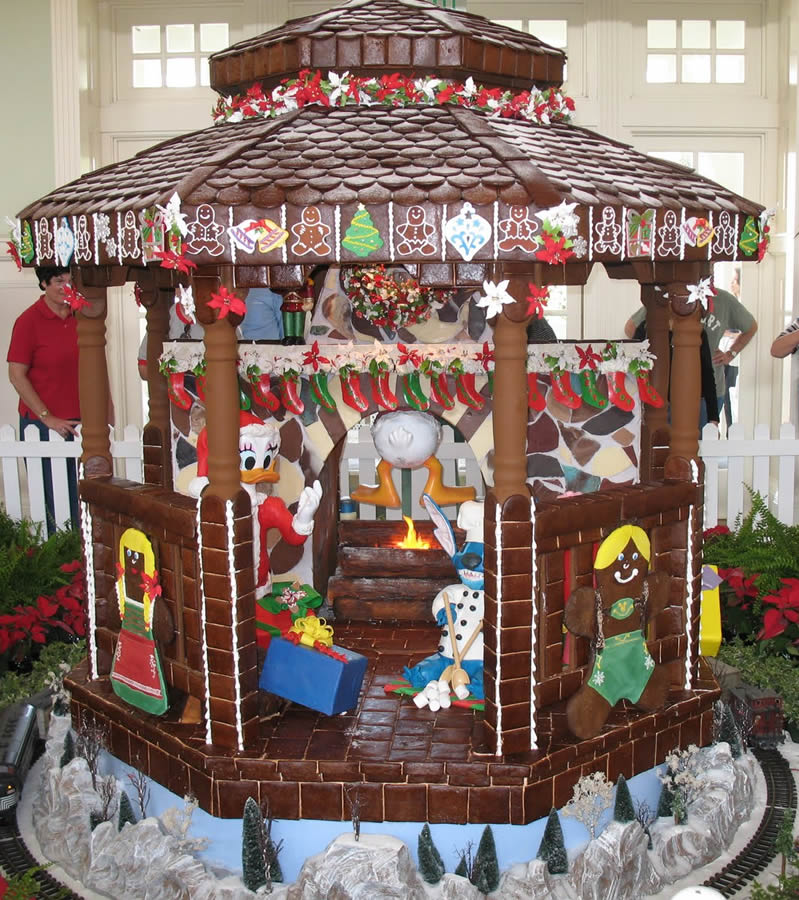 A couple of the pavilions in the World Showcase of Epcot® have delicious displays.  The Italy Pavilion has its own intricate gingerbread display.  Though it is smaller than the others, its attention to detail is just as grand.  Santa's Bake Shop at Liberty Inn at the American Adventure pavilion is another life-sized gingerbread house made entirely of gingerbread, cookies, and icing. Stop by to purchase drinks and goodies here, too!
Start planning your vacation to the Walt Disney World® Resort for the holidays now!  Contact your Magic Maker® for more information or click here to request a quote.