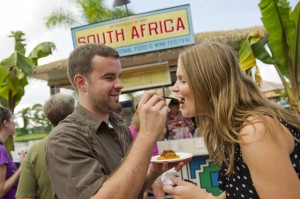 Nearly 30 marketplaces representing 6 continents will serve guests tasty tapas-size specialties at the 2012 Epcot® International Food & Wine Festival. Spread throughout the World Showcase, these kiosks bring Epcot's® everyday International food offerings to a new level!
New to this year's festival is a Florida and Terra Marketplace. The Florida Marketplace will feature some regional favorites with a fresh Florida twist. The Terra Marketplace will be the first location in Food & Wine history to offer all-vegan options.
Enjoy this look at the different marketplaces and their offerings.
International Marketplaces:
ARGENTINA
Regional Cuisine:
Beef Empanada
Grilled Beef Skewer with Chimichurri Sauce and Boniato Purée
Beverage Pairings:
Terrazas Reserva Chardonnay
Terrazas Reserva Cabernet Sauvignon
Terrazas Reserva Torrontes
Terrazas Reserva Malbec
AUSTRALIA
Regional Cuisine:
Shrimp on the Barbie with Pepper Berry Citrus Glaze
Grilled Lamb Chop with Mint Pesto and Potato Crunchies
Lamington
Beverage Pairings:
Rosemount Estate Traminer Riesling
Rosemount Estate Chardonnay Semillon
Rosemount Estate Cabernet Sauvignon Merlot Shiraz
Rosemount Estate Shiraz Cabernet
BELGIUM
Regional Cuisine:
Steamed Mussels in Hoegaarden Beer Broth and Baguette
Belgian Waffle with Berry Compote and Whipped Cream
Guylian Belgian Chocolate Seashell Truffles
Beverage Pairings:
Hoegaarden
Stella Artois
Leffe Blonde
Leffe Brune
Godiva Chocolate Liqueur Iced Coffee
CANADA
Regional Cuisine:
Canadian Cheddar Cheese Soup
Chicken Chipotle Sausage with Sweet Corn Polenta and "Minus 8" Onion Jam
"Le Cellier" Wild Mushroom Beef Filet Mignon with Truffle Butter Sauce
Beverage Pairings:
Neige Première Apple Ice Wine
Neige Bubble
Mission Hill Family Estate Syrah
Moosehead Beer
CARIBBEAN
Regional Cuisine:
Ropa Vieja with Cilantro Rice
Jerk Spiced Chicken Drumstick with Mango Chutney
Beverage Pairings:
Bacardi® Frozen Dragon Berry Colada
Bacardi® Torched Cherry Frozen Cherry Limeade
CHINA
Regional Cuisine:
Mongolian Beef with Chinese Steamed Bun
Pork Pot Stickers
Chicken Satay with Spicy Peanut Sauce and Pickled Vegetables
Mango Tapioca Pudding
Beverage Pairings:
Tsing Tao Beer
Francis Ford Coppola Su Yuen Riesling
Francis Ford Coppola Su Yuen Syrah
Happy Lychee with Vodka
Sunny Guava with Coconut Rum
FLORIDA LOCAL – NEW!
Regional Cuisine:
White Corn Arepa with Mangalitsa Pork Rilette and Zellwood Sweet Corn Salad
Florida Shrimp Ceviche with Fire Roasted Vegetables, Fried Plantains and Cilantro
Beverage Pairings:
Florida Beer Company Florida Lager
Florida Beer Company Key West Southernmost Wheat
Florida Orange Grove Key Limen
Florida Orange Grove Hurricane Class 5, Florida White Sangria
FRANCE
Regional Cuisine:
Escargots Persillade en Brioche
Coq au Vin sur Gratin de Macaroni
Créme Brûlée au Chocolat au Lait
Beverage Pairings:
Chardonnay, Bouchard Aîné & Fils
Merlot, Château de Mercade Bordeaux
Sparkling Pomegranate Kir
Eiffel Sour Cosmo Slush
GERMANY
Regional Cuisine:
Schinken Nudel (Pasta Gratin with Ham and Cheese)
Roast Bratwurst in a Pretzel Roll
Apple Strudel with Karamel-Vanilla Sauce
Beverage Pairings:
Selbach-Oster Estate Spätlese
JH Selbach Riesling Classic
JH Selbach Riesling QbA Red Label
Niersteiner Spiegelberg Dornfelder
Radeberger Pilsner
Altenmünster Dunke
GREECE
Regional Cuisine:
Greek Salad with Pita Bread
Griddled Greek Cheese with Pistachios and Honey
Chicken Souvlaki with Tzatziki
Spanakopita
Dannon® Oikos® Greek Yogurt Cups
Beverage Pairings:
Domaine Skouras Moscofilero
Domaine Skouras St. George
Sigalas Assytiko
Alpha Axia Syrah
HAWAI'I
Regional Cuisine:
Kalua Pork Slider with Sweet and Sour Dole Pineapple Chutney and Spicy Mayonnaise
Tuna Poke with Seaweed Salad and Lotus Root Chips
Beverage Pairings:
Seven Tiki® Mai Tai
Heitz Cellar Chardonnay
Kona Brewing Company Big Wave Golden Ale
Kona Brewing Company Pipeline Porter
IRELAND
Regional Cuisine:
Lobster and Seafood Fisherman's Pie
Kerrygold® Cheese Selection: Aged-Irish Cheddar, Dubliner and Cashel Blue with Apple Chutney and Brown Bread
Warm Chocolate Lava Cake with Bailey's Ganache
Beverage Pairings:
Guinness
Bunratty Mead Honey Wine
Bunratty Potcheene Chilled Irish Coffee
ITALY
Regional Cuisine:
Ravioli di Formaggio All'emiliana (Baked Cheese Ravioli, Creamy Beef Bolognese, Parmesan, Mozzarella)
Salsiccia e "Papacelli" Napoletani (Sweet Sausage, Red Pepper, Ciaibatta Bread)
Cannoli al Cioccolato (Chocolate-Covered Cannoli filled with Ricotta, Chocolate, Candied Fruit)
Beverage Pairings:
Moretti Beer
Prosecco Zardetto
Pinot Grigio Mezzacorona
Chianti Castello di Quercetto
Italian Margherita
JAPAN
Regional Cuisine:
Spicy Hand Roll (Tuna & Salmon with Chili Pepper, Soy Sauce & Sesame Oil Topped with Kazan Volcano Sauce)
Karaage Hand Roll (Crispy Chicken Breast with Sushi Rice and Spicy Mayonnaise)
California Roll (Avocado, Cucumber, Crab, Mayonnaise, Smelt Roe Rolled in Sushi Rice and Seaweed)
Sukiyaki Beef Pan (Marinated Thinly Sliced Rib Eye with Sauteed Onions and Teriyaki Sauce Served in a Bun)
Beverage Pairings:
Kirin Ichiban Draft Beer
Sake-Kikusui Super Dry, Junmai
Sake-Bishounen Junmai Ginjo
Sake Strawberry Mist
MEXICO
Regional Cuisine:
Crispy Shrimp Taco with Chipotle Lime Mayo and Cabbage Served on a Flour Tortilla
Taco de Filete with Cascabel Pepper Sauce and Scallions Served on a Flour Tortilla
Natilla de Cajeta (Caramel Custard Served with Sauce)
Beverage Pairings:
Dos Equis Beer
L.A. Cetto Chardonnay
L.A. Cetto Petite Sirah
Lime Strawberry Margarita On the Rocks
Tequila Flight: Tequila Blanco, Reposado and Anejo
MOROCCO
Regional Cuisine:
Kefta Pocket (Ground Seasoned Beef in a Pita Pocket)
Merguez Sausage (Beef and Lamb Sausage with Grilled Peppers and Onions)
Baklava
Beverage Pairings:
Casa Beer
Amazigh Red
Sangria
Mimosa Royale
NEW ZEALAND
Regional Cuisine:
Seared Sea Scallop with Kumara Red Curry Puree and Apple Radish Salad
Lamb Meatball with Spicy Tomato Chutney
Beverage Pairings:
Kim Crawford Pinot Grigio
Kim Crawford Sauvignon Blanc
Kim Crawford Un-Oaked Chardonnay
Kim Crawford Pinot Noir
POLAND
Regional Cuisine:
Kielbasa & Potato Pierogie with Caramelized Onions and Sour Cream
Zapiekanki-Toasted Mushroom, Caramelized Onion and Cheese Bread with House Made Ketchup
Beverage Pairings:
Chandon Carneros Chardonnay
Tyskie
Belvedere® Frozen Lemon Apple "Tea"
SCANDINAVIA
Regional Cuisine:
Taste of Scandinavia: Cured Salmon, Herring and Shrimp Salad
Swedish Meatballs with Lingonberries
Rice Pudding with Driscoll's® Only The Finest Berries™
Beverage Pairings:
Iron Horse Fairytale Cuvee
Xanté
Xanté Sunshine
SINGAPORE
Regional Cuisine:
Beef Rendang with Jasmine Rice
Seared Mahi Mahi with Jasmine Rice and "Singa" Sauce
Beverage Pairings:
Tiger Beer
Marqués de Cáceres Satinela
Singapore Sling
SOUTH AFRICA
Regional Cuisine:
Seared Filet of Beef with Smashed Sweet Potatoes and Braai Sauce
Spinach and Paneer Cheese Pocket
Beverage Pairings:
Fairview Sauvignon Blanc
Fairview Pinotage
SOUTH KOREA
Regional Cuisine:
Lettuce Wrap with Roast Pork and Kimchi Slaw
Mung Bean Pancake with Shrimp and Kimchi Sauce
Beverage Pairings:
Bohae Black Raspberry Wine-Bokbunjajoo
Chung Ha Soju Fruit Slushy
Chung Ha Soju
Specialty Marketplaces:
BREWER'S COLLECTION
Beverage Selection:
Radeberger Pilsner
Altenmünster Oktoberfest
Altenmünster Dunkel
Hövels
Schöfferhofer Weizen
Schöfferhofer Grapefruit
Berliner Kindl Dark
Sion Kölsch
CHEESE
Cuisine:
Cheese Fondue with Sourdough Bread
Trio of Artisan Cheeses: Beecher's Flagship Reserve Cheddar, La Bonne Vie Goat Brie and Rogue River Creamery Echo Mountain Blue Cheese
Beverage Pairings:
Sterling Vintner's Collection Sauvignon Blanc
Sterling Vintner's Collection Riesling
Sterling Vintner's Collection Pinot Noir
Sterling Vintner's Collection Meritage
CRAFT BEER
Beverage Selection:
Widmer Rotator IPA: Spiced IPA, Portland, OR
Red Hook Pilsner, Portsmouth, NH
Blue Moon Seasonal, Golden, CO
Leinenkugel Berry Weiss, Chippewa Falls, WI
Florida Beer Company's Devil's Triangle, Florida
Abita Purple Haze, Lousianna
Full Sail IPA, Oregon
Sierra Nevada Pale Ale, Nevada
DESSERTS & CHAMPAGNE
Cuisine:
Yogurt Panna Cotta with Orange Cake, Raspberries and Pomegranate
Lemon Custard Verrine with Blueberry Compote
Dark Chocolate Mousse with Chili and Salted Caramel
Beverage Pairings:
Nesquick Frozen Chocolate Foam
Nesquick Frozen Strawberry Foam
Moët & Chandon Ice Impérial
Moët & Chandon Rosé Impérial
Moët & Chandon Nectar Impérial
Moët & Chandon Impérial
FIFE & DRUM
Beverage Selection:
Red Stag Lemonade by Jim Beam®
Red Stag Honey Tea Lemonade by Jim Beam®
HOPS & BARLEY
Cuisine:
Linda Bean's® Lobster Claw Cuddler® Chilled with Herb Mayonnaise
Linda Bean's® Perfect Maine Lobster Roll®
Linda Bean's® Maine Home Style Clam Chowder
Pumpkin Mousse with Craisins and Orange Sauce
Beverage Pairings:
Samuel Adams Boston Lager®
Samuel Adams® Seasonal
Samuel Adams Cherry Wheat®
17th Anniversary Festival Beer– Samuel Adams® Chocolate Bock
Samuel Adams Light®
Samuel Adams® Cream Stout
Samuel Adams® Latitude 48 IPA
Angry Orchard Cider
TERRA (All Vegan) – NEW!
Cuisine:
Trick'n Chick'n Curry with Basmati Rice featuring Gardein Chick'n Breast
Chili Colorado with House Made Chips & Cashew Cheese, featuring Gardein Beefless Tips
Chocolate Cake with Passion Fruit Sorbet and Coconut Foam
Beverage Pairings:
Paul Dolan Sauvignon Blanc
Paul Dolan Pinot Nior
Silk® Berry Smoothie