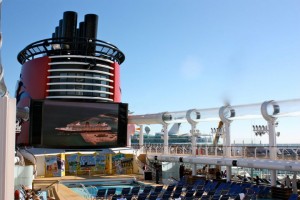 Since Disney Cruise Line® first set sail in 1998, they have pioneered the family market in the cruise industry. Each of their ships have been designed to provide a unique vacation experience for all ages. Onboard, adults can relax and recharge while children experience all the magic Disney has to offer! Over the years, Disney Cruise Line® has received more than 100 awards in the travel industry!
As a continuation of our "Breaking the Myths" series, today we are focusing on our favorite vacation at sea!
Myth: All four of the Disney Cruise Line® ships features the AquaDuck.
Each of the Disney Cruise Line® ships have something different or exclusive to offer their guests. From varying shows, restaurants and onboard features, no two ships are the same. The AquaDuck, the world's first-ever shipboard water coaster, is only available on the Disney Dream® and Disney Fantasy™. 
Myth: Disney Cruise Line® sailings have nothing to offer for adults traveling without kids.
There's no hiding the fact that Disney Cruise Line® is the perfect vacation for the young, but they also offer a wide variery of events catered specifically for the young at heart! Onboard, adults will find endless ways to relax and enjoy themselves – from elegant dinners to backstage tours to an exclusive beach on Disney's private island, Castaway Cay. And that is just the beginning, so ask your Magic Maker® for complete details.
Myth: We are early eaters – the second seating for dinner won't work for my family.
Typically the main seating for dinner is the first to become unavailable on Disney Cruise Line®. But, some of our young families are experiencing that the later seating is more convenient while on vacation for many reasons. First, your normal routine will inevitably be put on hold while you are on vacation. You will be staying up later for shows and parties, waking up early for Port Adventures, and maybe even skipping the normal naps to spend some extra time in the pool. When you are spending the day in port, some feel the main seating cuts your day short by having you back on the ship too early to get ready for dinner. Next, there is no shortage of food on Disney Cruise Line®! If your kids (or you) are hungry before dinner, you can make a quick trip to the pool deck and grab a small snack to hold them over until dinner! Lastly, Disney Cruise Line® offers Dine and Play for second seating – a service allowing families to enjoy dinner together then ushers kids to the Kid's Clubs to give parents time to relax at the end of the meal and spend time in the adult-exclusive areas of the ship.
Disney Cruise Line® has just released itineraries through the end of 2014! Booking early is the best way to save on a Disney Vacation at sea, so contact your Magic Maker® today and start planning!