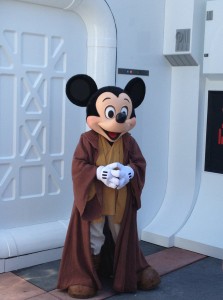 Yesterday, The Walt Disney Company announced its agreement to acquire Lucasfilm Ltd., the company owned by George Lucas that is known for Star Wars and Indiana Jones. Under the deal, Disney will acquire ownership of Lucasfilm, a leader in entertainment, innovation and technology, and LucasArts, Industrial Light & Magic, and Skywalker Sound – operating businesses in live action film production, consumer products, animation, visual effects, and audio post production.
For the past 35 years, one of my greatest pleasures has been to see Star Wars passed from one generation to the next. It's now time for me to pass Star Wars on to a new generation of filmmakers. I've always believed that Star Wars could live beyond me, and I thought it was important to set up the transition during my lifetime. – George Lucas, Chairman and Chief Executive Officer of Lucasfilm
The Walt Disney Company and Lucasfilm have had a long-standing relationship that had previously integrated Star Wars into the Walt Disney World® Resort, the Disneyland® Resort, Disneyland® Paris, and Tokyo Disney® Resort. This acquisition will not only increase the presence of Star Wars within the Disney Parks, but The Walt Disney Company has already announced the making of Star Wars Episode 7 in which George Lucas will serve as creative consultant. Star Wars Episode 7 is targeted for release in 2015, with more feature films expected to continue the Star Wars saga and grow the franchise well into the future.