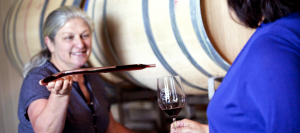 Disney Cruise Line® has announced a new Signature Port Adventure for guests sailing on their 7-night Pacific Coast Cruises later this fall.
John Lasseter, creative mind and executive producer of Disney•Pixar films, is opening up his Lasseter Family Winery for a tour exclusive to guests of the Disney Wonder® Cruise Ship. In its current location since 2002, three generations of the Lasseter family continue to share their love of the Sonoma Valley through their hand crafted wines.
This signature port adventure begins with an approximate 75-minute transfer to Sonoma Valley, the birthplace of the California wine industry. During your transfer, your guide will set the groundwork  for your tour with a brief history on Sonoma Valley's wine region and surrounding areas.
Upon arriving at the Lasseter Family Winery, you will be greeted by your host and winery owner, Nancy Lasseter. Your exclusive behind-the-scenes access will allow you into the heart of the winery to observe the different stages of the harvest process. Nancy will take you out into the vineyards to sample different grape varietals right from the vines and you will learn how they determine ripeness. Celebrated winemaker, Julia Iantosca, will join the tour to give you insight into the craft of artisan winemaking. The harvest activities tour concludes with a short walk along the vineyards to beautiful Lake Serendipity, a rarely-seen jewel of their estate.
But, your experience doesn't end there! Mrs. Lasseter has enlisted the help of renowned chef, Sondra Bernstein, to design food that pairs perfectly with the 5 Lasseter Family wines. Nancy will talk about each wine and the delectable flavors that you will experience while Sondra prepares and serves a gourmet meal.
Your tour concludes with time to browse the Lasseter Family wines for sale and Sondra's gourmet pantry items should you want to purchase any souvenirs. The ultimate souvenir comes as you say goodbye to your gracious hosts and receive a bottle of Lasseter Family wine, signed by Nancy and John Lasseter and winemaker Julia Iantosca!
The Lasseter Family Winery Signature Port Adventure is available on select San Francisco port days. The tour is approximately 6 hours and is available only to guests 21 years and older. Pricing for the tour is $475 per person.
Please contact you Magic Maker® for more information on Disney Cruise Line's® 7-night Pacific Coast Cruises and the Lasseter Family Winery Signature Port Adventure.