Disney's Animal Kingdom Villas
Walt Disney World® Deluxe Villas Resort
An entirely unique Disney experience just to the west of Disney's Animal Kingdom® Theme Park. It's the thrill of staying at a wildlife reserve with animals grazing just beyond your balcony. Rejuvenate both body and spirit in luxurious surroundings while sharing the grandeur of the African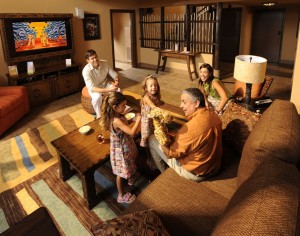 wilderness. The beauty of the savannah, the rhythm of tribal drums, exquisite cuisine in lush settings and the lure of authentic African treasures all come together to celebrate the beauty and wonder of this vast and untamed continent.
Room Types/Views

Standard Villas:
Studio – sleeps up to 4 and has a kitchenette
1 Bedroom/1 Bath – sleeps up to 4 with a full kitchen
2 Bedrooms/2 Baths – sleeps up to 8 and has a full kitchen
Room Amenities
Hotel Amenities
Alarm Clock
Balcony/Patio
Ceiling Fan
Coffee Maker & Setup
Dining Table & Chairs
DVD Player
Hair Dryer
In-Room Wall Safe
Iron and Board

Kitchenette (Studios):
Refrigerator, Microwave,
Sink, Plates, Flatware, Glasses

Toaster Kitchen (1-3 Bedrooms):
Full-size Refrigerator, Microwave,
Stove, Oven, Toaster, Blender,
Dishwasher, Plates, Flatware,
Glasses, Cookware, Sink, Tea Kettle

Living Room Area (1-3 bedroom only)
Washer/Dryer (1-3 bedroom only)

The following are available
on request: Bed Boards/Rails,
Crib, High Chair

Disney Resort Benefits
Merchandise location (gifts, sundries)
Self service laundry facilities
Valet laundry service
Club Level Concierge
Valet parking

Animal Programs: Watch animals via
night vision, watch animal handlers feed,
become a junior researcher or go on a
cultural safari.
Kids Programs
Simba's Cubhouse
Hours: Daily, 4:30 pm to 12 midnight
Supervised activities including toys by Hasbro, free play arcade games (2), arts and crafts, games, Disney movies, and Sony Playstations.  Advance reservations recommended.
Simba's Cubhouse provides a complimentary dinner for children in the Cubhouse. Guests can order meals for their children when they check in. Menu items include: peanut butter and jelly sandwich, chicken fingers, mini burger, hotdog, macaroni and cheese. No outside food, please.
Spa Services
Even though you may be on the wilds of the savanna there is no reason you have to abandon your regime of health and fitness. In addition to the latest state-of-the-art exercise equipment, we invite you to enjoy our steaming sauna or stress-melting massage. We are happy to assist you with your health and fitness needs.